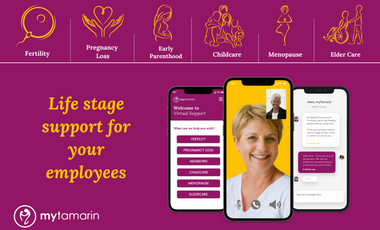 myTamarin
myTamarin provides employee benefits for progressive employers to drive retention, productivity and diversity within the workplace. We achieve this through supporting employees with contemporary, family oriented benefits for modern working people.
Come and talk to us about
myTamarin provides support to assist employees through the most debilitating critical life stages. Spanning across: Family planning and fertility - Pregnancy loss - Early parenthood - Childcare - Menopause - Eldercare. With 80% of the population currently in at least one of the critical life stages, almost every demographic can benefit from our extensive expert-led services. Including 1on1 consultations, 24/7 support, events and trainings.