A core part of why we work is to survive, but regardless of how much we each earn it can be hard to meet our financial aspirations. Employers which focus on helping employees make the most of the wage they earn will increase employee engagement, enhance their employee value proposition and improve employee retention.
This is particularly vital in a year with rising inflation, expected energy price rises as well as increased commuting expenses for those retuning to the workplace. During 2022 employees are expected to have bigger money worries which will impact stress levels, ability to focus on work as well as risking them watch their financial dreams fade, be it to pay off a loan, take a holiday, start a family or save enough for retirement.
By focussing on financial reliance and the different life stages of a diverse workforce, responsible employers can look after the welfare of employees and make them feel good about where they work.
In this webinar, the panel will share the emerging methods and types of support which employers can provide for employees, how they are using financial wellbeing as part of their EVP and their insights on how thinking in financial wellbeing is evolving ways to meet the differing needs employees and their unique experiences.
Key issues to be explored during the discussion:
Why financial wellbeing is a crucial part of an EVP
How the increased financial pressures of rising prices and costs will impact employee
Ways to help employees build financial resilience
Using life stages and moments that matter to help a diverse mix of employees meet their financial aspirations
How support employees so they can save for both the short and long term
Emerging methods and types of support that make a difference to financial wellbeing and resilience
REBA webinars are complimentary for everyone working within rewards and benefits.
Panel chair: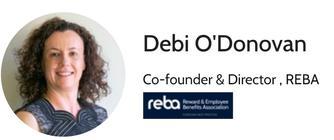 The panel consists of: