View the webinar recording.
View more webinar recordings in our resource library.
Employers are increasingly turning to financial wellbeing strategies and offerings to make pay go further, attract and retain talent as well as support employees with their money ambitions and concerns. To achieve these objectives, careful consideration needs to be given to the evolving needs of both the employer and employee.
This webinar will explore the major shifting personal finance, workplace and socio-economic trends that are playing into the workplace. From the impact of the housing market, increasing pensions decumulation among older employees through to the impact of hybrid working and responsible investing, change is leading to an evolution in financial wellbeing strategies.
The panel will discuss the details of rising trends, how different demographics (from age and location to earning levels) need different responses, through to practical examples of actions employers can take.
Key issues to be explored:
• Evolving employee financial needs that are reshaping financial wellbeing offerings
• Workplace and socio-economic trends that employers need to consider
• How to evolve a financial wellbeing strategy to keep aligned to HR objectives
• Pensions in a DC world – what to watch out for
• Practical ideas and the actions employers can take
Thanks to strategic partner Close Brothers for supporting this REBA webinar
Panel chair: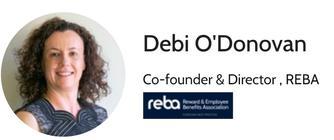 The panel consists of: