As good employers strive to be organisations with a purpose, which care and support their employees, and which aim to be sustainable in the long term they are increasingly focussing on having corporate cultures that are diverse, equitable and inclusive.
While wellbeing strategies and benefits cannot in themselves drive DEI, they need to align to DEI principles in order to underpin the desired culture that embraces all intersectionalities across age/generation, genders, ethnicities, physical abilities and neurodiversities.
In this webinar, panellists will discuss their experiences of how practitioners can assess an organisation's wellbeing and benefits needs to support a DEI agenda; the cultural significance of benefits; and how benefits and wellbeing strategies intersect with both DEI and ESG strategies.
The panel will also look at how offerings and benefits design may need to adapt or change so that all employees feel included.
Key issues to be explored
How is the cultural significance of benefits changing? (i.e. the impact of employee demand, especially Gen Z; the rise of ESG; the importance of purpose and sustainability)
What are the DEI principles benefits practitioners need to focus on in order to understand how to align their benefits strategies?
How can benefits be personalised in order to be truly inclusive? What works and what doesn't?
Why is the emphasis on wellbeing benefits, over and above other benefits, when it comes to supporting DEI?
How can employers introduce new benefits that are not relevant to all employees in order to be more inclusive (e.g. menopause or fertility support)?
Which diversities getting more support now and where are the gaps? How can benefits practitioners work out where to start?
What methods can employers use to gauge effectiveness, especially when some DEI benefits will have low take up?
Are health and risk insurances becoming more inclusive? Where are we on the journey in terms of language used, exclusions, claims experience and wellbeing support services coming in to complement insurances?
REBA webinars are complimentary for everyone working within rewards and benefits.

Thanks to strategic partner, Aviva, for supporting this REBA webinar.
Panel chair: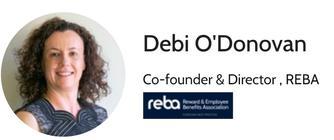 The panel consists of: