In the context of a cooling labour market yet strong wage rates and ongoing economic instability, there are evolving trends that Reward, Compensation and HR Directors should have top of mind in order to walk the tightrope between securing the talent and skills to deliver on business strategy while still controlling overall pay spend.
This webinar will explore how those involved in pay and reward strategies can adapt in the light of an increasingly frustrated employee/employer relationship where real wages have not kept up with inflation, pay is top of the agenda, while the cost-of-living is still biting.
While the webinar will be primarily UK-focused, the panel will discuss the impact of emerging body of pay transparency legislation (both EU directive and emerging US State legislation) and on employers, and why those not directly required to make change will still need to take a proactive rather than defensive approach to stay ahead in the competition for talent and skills.
Key issues to be explored
• What should be top of the Reward Director's to-do list in 2024
• Why economic uncertainty does not automatically mean tightening pay budgets
• Ways to invest in pay to drive business during tougher times
• Understanding what employees value in order to optimise compensation spend
• Why UK employers do need to take account of pay transparency legislation in the EU and US and the ongoing importance of pay equity
• Alternative compensation ideas to avoid strikes, resignations and employee demotivation
Thanks to strategic partner Payscale for supporting this REBA webinar
Panel chair: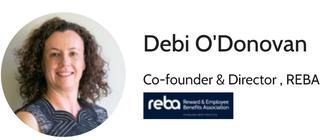 The panel consists of: