At a glance: reward and benefits headlines this week 4-10 June 2021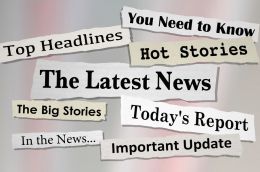 Here are the headlines you might have missed between 4-10 June 2021.
Pressure intensifies to introduce right to disconnect policy
HR Review: Trade Union Prospect has called for a Right to Disconnect policy to be introduced, instating a ban on out-of-hours emails to encourage better work-life balance. This policy would give employees the legally binding right to disconnect, potentially meaning that any emails sent outside of work hours would be automatically deleted to encourage staff to stick to their hours. Read Story.
46% of employees would not share data to improve wellbeing support
Employee Benefits: Nearly half (46%) of employees do not think their organisation should be able to monitor their personal health data, even if this enabled them to offer improved wellbeing support. The research carried out by Deloitte revealed that almost half (49%) of workers also believe their personal health is none of their employer's business. Read Story.
Most employers approached by staff with money worries – research
Corporate Adviser: More than one in five – 21 per cent – of smaller firms expect to lay off staff by September and 90 per cent of employers say their staff have approached them with worries since November 2020. Research from digital employee benefits service provider WorkLife reveals that 29 per cent of SMEs have been forced to furlough staff since November 2020, with a quarter 25 per cent cutting staff hours, 22 per cent reducing pay and 20 per cent unable to offer an annual salary increase. Read Story.
Howden: Extend benefits beyond high earners for effective Covid policies
Healthcare & Protection: Employers have been urged to improve employee benefits regardless of pay grade to develop policies that are resilient to Covid or any other emerging infectious disease. The call comes from Steve Herbert head of benefits strategy at Howden Employee Benefits & Wellbeing, who was commenting on a survey conducted during the Howden Employment Webinar in March. Read Story.
Long Covid symptoms lasting over one year reported by 376,000 in UK
Cover magazine: The latest data from the Office of National Statistics (ONS) published on 4 June shows that over one million people in private households throughout the UK are self-reporting symptoms of Long Covid. Read Story.
Mid-life workers seek four day working week: Aviva
Corporate Adviser: More than two in five (42 per cent) workers now have more flexible working hours as a result of the pandemic, but many are looking for further flexibility as they return to the workplace. The survey by Aviva found that six out of 10 workers would prefer to work longer hours each day to have a four day week and extended weekend. This choice of work pattern was most popular amongst the 25-34 year olds (65 per cent), but three out of five (60 per cent) 45-54 year olds also agreed. Read Story.
Businesses that target ethnic minority support see 60 per cent better revenues, research finds
People Management: Firms that provide targeted support for ethnic minority groups earn on average 58 per cent more revenue than businesses that don't, a study has found. A report by Henley Business School, which analysed the earnings of 100 firms in the FTSE 350, found businesses that reported they had targeted racial equity measures in place earned an average of £5.6bn in revenue, compared to just £3.6bn for the firms that did not. Read Story.
Employees want more empathetic leaders, new Facebook research finds
HR Magazine: Empathetic leadership is now needed to retain top talent in UK organisations, according to new research by Facebook. More than half (58%) of employees said they would consider leaving their job if company leaders didn't show empathy to staff needs. Read Story.
Government to create 'one-stop shop' watchdog for labour rights
People Management: A "powerful" new workers' rights watchdog will be created to act as a "one-stop shop" for enforcement, the government has said. The new body will combine the roles of the separate bodies that currently enforce the minimum wage, police modern slavery and protect agency workers, and is being introduced to help tackle labour abuses like those that came to light in Leicester textile factories last year. Read Story.
Clinically vulnerable ignore government guidance and continue to shield
Healthcare & Protection: Four in 10 clinically extremely vulnerable (CEV) people are ignoring official government guidance and continuing to shield to guard against contracting Covid. Data from the Office for National Statistics (ONS) revealed that while 81% of CEV people knew the government had paused shielding for CEV people from 1 April, 45% said they were continuing to shield when asked between 17 and 22 May 2021. Read Story.
Hybrid working is here to stay, say insurers
Healthcare & Protection: Insurers are rejecting the five day week and expect to continue with a hybrid approach to work as the country emerges from the pandemic. This contradicts predictions from the Centre for Cities which expects the five-day office week to become the norm again within two years. Read Story.
Shorter lives, more disability and critical illness claims likely as longer-term Covid fallout – Swiss Re
Healthcare & Protection: Swiss Re has warned the life and health insurance sectors to be prepared for significant and unexpected long-term effects from the Covid-19 pandemic. The reinsurer highlighted three key underlying effects which it believes are likely to impact the industry over the next three years, most notably that life expectancy and mortality could unexpectedly shorten significantly for the most at-risk people. Read Story.
Workers' rights watchdog to be launched
Personnel Today: The government has confirmed it will launch a single enforcement body to protect workers' rights and clamp down on unscrupulous employment practices. The new watchdog, yet to be named, will be responsible for tackling modern slavery, enforcing the payment of the national minimum wage and protecting the rights of agency workers. Read Story.
28% of employees would reduce salary for flexible working
Personnel Today: A new study has found that more than a quarter of employees would be willing to slightly reduce their salary in order to have more flexible working conditions. Enterprise cloud applications company Workday partnered with Yonder Consulting to conduct the research, The employee outlook: understanding employee sentiment and priorities across Europe, where more than 17,000 people below director level and employed by organisations with more than 250 staff members in nine European markets were surveyed. Read Story.
25% of financial advisers unsure of employer care support
Employee Benefits: New data has revealed that a quarter of financial advisers and insurance professionals are unsure whether their employer offers support if they need to care for loved ones. Read Story.
More than a third of workers in the UK are languishing
Workplace Insight: According to research from Randstad UK, more than a third of workers told the recruiter that the pandemic had left them feeling 'aimless' while more than a quarter of employees said the pandemic had left them unable to concentrate properly. A third described how the pandemic had sapped their motivation. Read Story.
Staff who view managers as 'ethical' likely to challenge wrongdoing
Personnel Today: Employees are more likely to challenge unethical behaviour in their organisation if their manager is seen as an ethical leader, a study has found. Researchers at Durham University Business School, the University of Sheffield and the University of Northampton sought to understand whether there was a correlation between the employee's perception of their manager being ethical and the likelihood of that employee speaking up about suspected wrongdoing by a colleague. Read Story.
Eight in 10 adults in Northern Ireland, Wales and England have Covid antibodies
Healthcare & Protection: Eight in 10 adults in England and Wales have Covid antibodies – proteins that help the body fight viruses. Data released by the Office for National Statistics (ONS) reveals 82.7% of adults in Wales would have tested positive for Covid antibodies in a blood test in the week commencing 17 May 2021. Read Story.
UK Companies are Rapidly Bringing the Future of Work to Life
Incentive & Motivation: Aon plc (NYSE: AON), a leading global professional services firm providing a broad range of risk, retirement and health solutions, has released the results of a new global human resources (HR) pulse survey, which shows the steps UK companies are taking to bring the future of work to life. Read Story.
Gartner : HR Research Reveals More Than Half of Employees have Experienced Significant Damage to Their Workforce Health Since the Start of the COVID-19 Pandemic
MarketScreener: Gartner, Inc. surveys of more than 20,000 employees between January 2020 and March 2021 revealed that COVID-19 has negatively impacted the health of 55% of the global workforce. The 2021 Gartner Workforce Resilience Employee Survey measured the change in workforce health across multiple employee well-being elements, work-life balance, psychological safety, burnout, collaboration, innovation and responsiveness. Read Story.
Three-quarters of hospitality workers reporting mental health concerns
Occupational Health & Wellbeing: Almost three-quarters of people working in the hospitality sector have struggled with their mental health over the course of the pandemic. According to online training platform High Speed Training, which commissioned the research, 73% of hospitality workers reported suffering a mental health concern over the past year. Thirty-five per cent of respondents said this was due to their work. Read Story.
Employers anticipate higher levels of long-term staff mental health, wellbeing support
Cover magazine: Group Risk Development (GRiD) survey shows employers view Covid pandemic as a catalyst for greater levels of support for staff mental health and wellbeing. The findings of the research, carried out by Opinium among over 500 HR decision makers, showed that just under three-quarters (73%) of employers believe the pandemic will mean long-term changes in the way they support the health and wellbeing of staff. Read Story.
25% say work is bad for their physical or mental wellbeing
Employee Benefits: New research has revealed that one in four employees believe work is bad for their physical or mental wellbeing at 23% and 25% respectively, a decrease from 26% and 27% in 2020. Read Story.
16% of employees want to contribute more to their workplace pension
Employee Benefits: A total of 16% of employees plan to increase their workplace pension contributions as a result of the Covid-19 (Coronavirus) pandemic, according to findings from Close Brothers. Read Story.
Returning to the office may see a rise in family separation anxiety
Workplace Insight: Research from Love Energy Savings claims that nearly half of parents (46 percent) are concerned about missing key moments in their child's development when they return to working in the office. Read Story.
Employee happiness drops 75% in two years
Employee Benefits: The happiness of workers has decreased by 75% since 2019, according to new findings from employee engagement consultancy Inpulse. The consultancy took data from 192 employee emotion surveys between 2019 and 2021, with 201,619 respondents taking part. Read Story.
Gender pay gap falls to 12.5%
Personnel Today: The gender pay gap at UK organisations has shrunk for the third consecutive year, early analysis has shown, but the true picture will only emerge once all eligible employers have published their data in the autumn. Read Story.
Insurers warned of legal risks from bad health tech and wearables
Healthcare & Protection: Insurers around the world must be wary of the risk of legal action being brought due to inappropriate advice provided by health technology and apps, including wearable devices. The warning appears in Swiss Re's annual Systematic Observation of Notions Associated with Risk (SONAR) report. Read Story.
Vast majority of employers supporting staff with long Covid
Corporate Adviser: More than six out of 10 people diagnosed with Covid-19 go on to experience long Covid symptoms, according to research from Canada Life. However the insurer found that the majority (93 per cent) of those experiencing these longer-term health problems have received support for this from their employer as they returned to work. Read Story.
Gender engagement gap in group protection identified
Corporate Adviser: More women than men are aware of the limitations of state health and welfare support, but fewer actually fully engage with group protection benefits and services, according to research from Legal & General. Read Story.