Embedding employee welfare and wellbeing at the heart of reward and benefits decisions
The employee experience creates great places to work and is a key driver of overall performance and wellbeing of an organisation, and therefore it was at the centre of the programme for the REBA Wellbeing Congress 2023.
The best sessions and speakers, meticulous organisation, the right people from the right organisations engaging with providers to improve their wellbeing strategies. Brilliant!
Great energy, great audience, great exhibitors – lots of partnership conversations, not just client conversations. You nailed the event!
There has never been a more exciting – or challenging – time to re-shape and re-design reward and benefits strategies, so that they support organisations that are high performing, more creative, sustainable and resilient in the short, medium and long-term.
Employee wellbeing remains at the heart of these strategies, positively impacting talent, careers and life stages. This is especially vital during an economic recession where the risks of quiet quitting, skills shortages and serious financial stressors on workers could hold back business potential and growth.
Embedding employee welfare and wellbeing at the heart of reward and benefits decisions is critical. It provides the ultimate future experience advantage that businesses need today, because when work is at its best so are employees.
The REBA Wellbeing Congress 2023 featured the most extensive, curated exhibition of 80+ specialist vendors for delegates to discuss their bespoke strategic needs with, alongside a content programme of inspirational keynotes, topical speaker sessions & workshops, and practical knowledge exchange in roundtable discussion.
Opening keynote: Will work ever work for us again?
Bruce Daisley opened the day with a thought-provoking and evidence-based talk "Using connection, community and wellbeing to manage new expectations and experiences of work" that explored how we can improve employee experience and wellbeing through better connections, community and cohesive cultures.
Bruce talked about how employers can help teams to cope better, to build better teamwork and how they themselves can thrive in this new workplace.
Closing keynote: On the sofa with Davina McCall
We were delighted to welcome Davina McCall as the closing keynote speaker. REBA Director, Debi O'Donovan talked to Davina about life, work and wellbeing.
She inspired, engaged and energised the audience while discussing many things including supporting an ageing workforce, women's and men's health initiatives, nutrition and more. As a well-known media personality and advocate for healthy living, she also talked about the positives and negatives surrounding social media and how it impacts mental health.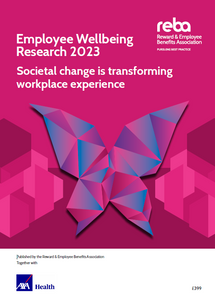 Complimentary report for all attendees
If you missed picking up a complimentary digital or print copy of the brand new REBA Employee Wellbeing Research 2023, in assocation with AXA Health, from their stand, then you can download it here. The report published on 22 June, and is exclusively available to attendees to the event (and REBA Members). It's packed full of insights, trends and benchmarking data to support your strategic decision-making, so make sure you get a copy!
Delegate feedback
Fantastic event, excellent vibe plus insightful strategic takeaways for our wellbeing programme.
Very informative, useful networking with colleagues and great talking to a range of relevant suppliers.