Reshaping the employee experience through reward & benefits
The employee experience creates great places to work and is a key driver of overall performance and wellbeing of an organisation, and therefore it is at the centre of the programme for this year's REBA Wellbeing Congress on 22 June 2023.
We're in the midst of an exciting – sometimes daunting – time of change that will continue to evolve the experience of work:
It is creating new flexible patterns of working
It will enable a wider range of people, by age, location, diversity to be part of a workforce
It is the defining recruitment and retention differentiator
It will drive financial success and a sustainable future
Embedding employee welfare and wellbeing at the heart of reward and benefits decisions
There has never been a more exciting – or challenging – time to re-shape and re-design reward and benefits strategies, so that they support organisations that are high performing, more creative, sustainable and resilient in the short, medium and long-term.
Employee wellbeing remains at the heart of these strategies, positively impacting talent, careers and life stages. This is especially vital during an economic recession where the risks of quiet quitting, skills shortages and serious financial stressors on workers could hold back business potential and growth.
Embedding employee welfare and wellbeing at the heart of reward and benefits decisions will be critical. It will provide the ultimate future experience advantage that businesses need today because when work is at its best so are employees.
The REBA Wellbeing Congress features a curated exhibition of specialist vendors for you to discuss your bespoke strategic needs with, alongside a content programme of inspirational keynotes, topical speaker sessions & workshops, and practical knowledge exchange in roundtable discussion. It's your best opportunity to do essential fact-finding for your wellbeing benefits strategy.
Opening keynote: Will Work Ever Work For Us Again? Using connection, community and wellbeing to manage new expectations and experiences of work
Join Bruce Daisley - Sunday Times best-selling author, host of the Eat Sleep Work Repeat podcast and one of the most influential voices on the intersection of life and work - in this thought-provoking and evidence-based talk exploring how we can improve employee experience and wellbeing through better connections, community and cohesive cultures.
Drawing on his work with CEOs and the latest behavioural research on hybrid and future workplaces and changing workforce expectations, Bruce encourages us to embrace what we can't change but to experiment with the things we can. With a clear focus on wellbeing, Bruce will delve into how can we help our teams to cope better, to build better teamwork and how we ourselves can thrive in this transformed workplace. You'll take away seven fun and practical solutions to these challenges and gain valuable insights and inspiration from real-life examples of companies pioneering change.
Delegate feedback
Fantastic event, excellent vibe plus insightful strategic takeaways for our wellbeing programme.
Very informative, useful networking with colleagues and great talking to a range of relevant suppliers.
Meet all these specialist suppliers, see what's new: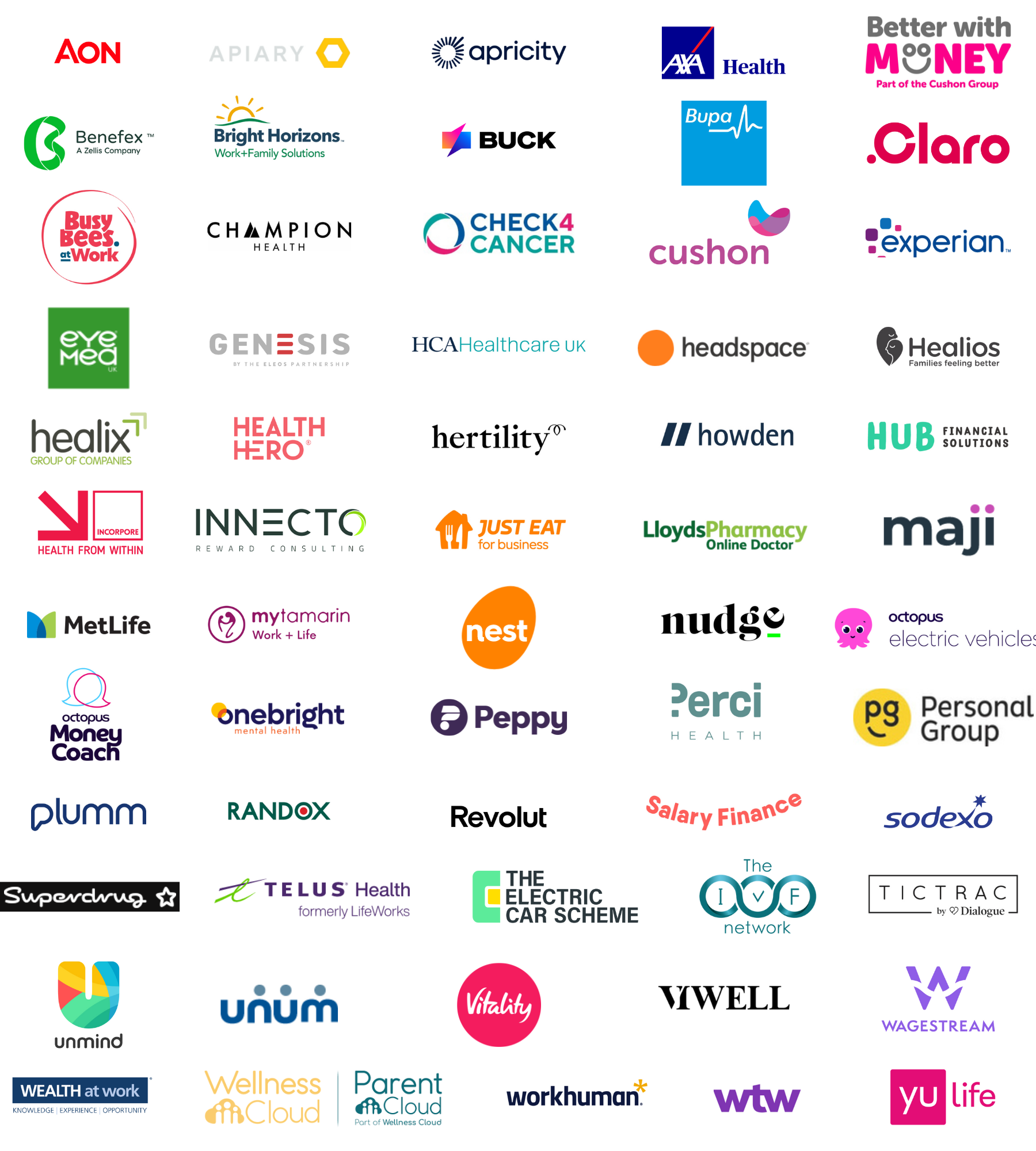 Speakers and Discussion Group Leaders in 2022 included: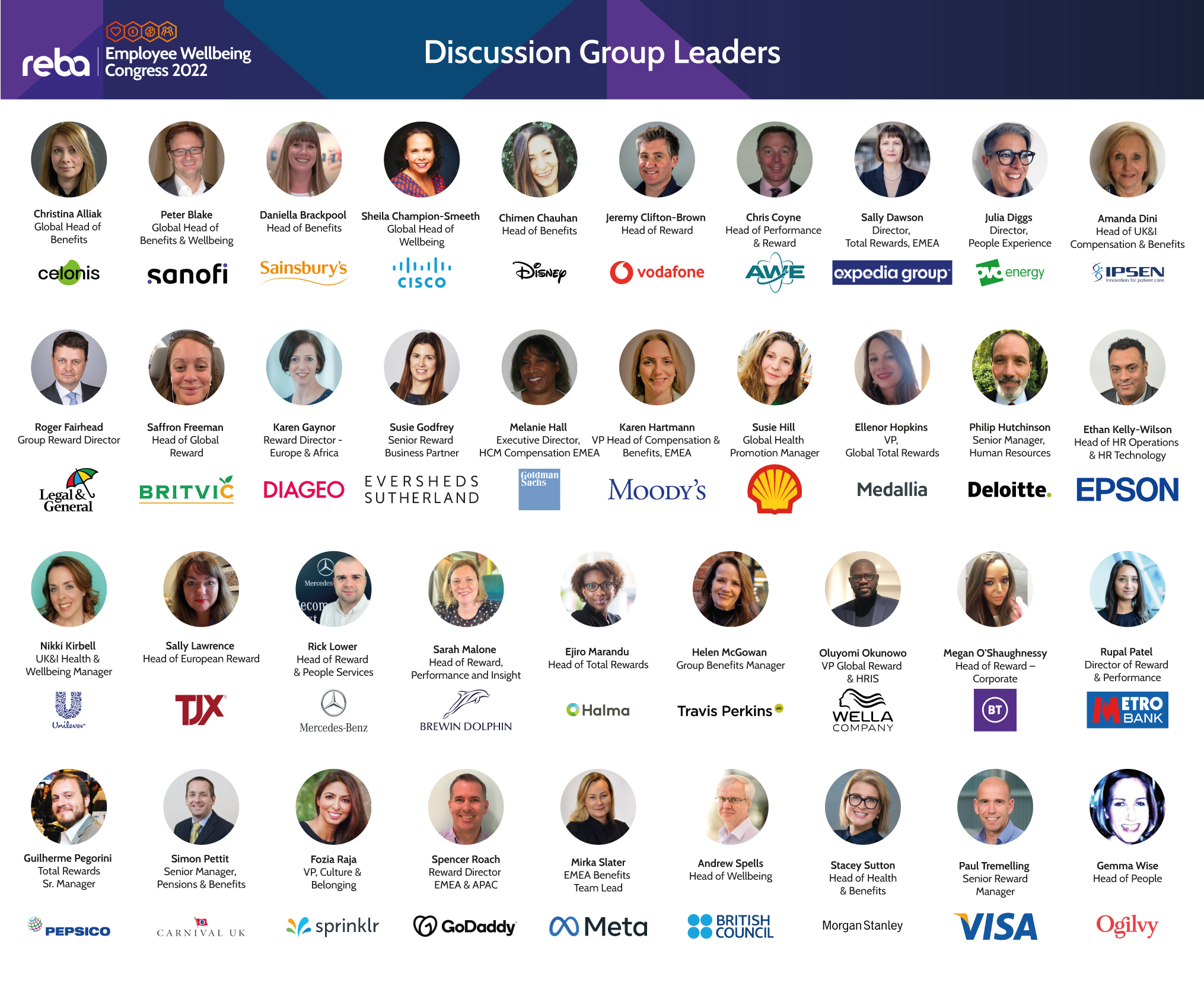 Enquire about sponsorship and exhibiting opportunities by filling out the form below or please call Suzanne Saunders on 07545 385730.