View the webinar recording.
View more webinar recordings in our resource library.
We have moved rapidly from a pandemic into a cost-of-living crisis coupled with labour and skills shortages. However, there's no playbook on how to deal with the business pressures at a time of economic uncertainty and high expectation from employees.
Drawing on REBA's brand new Benefits Design Research, publishing on 27 April 2023, we will take a look at the impact of these internal and external pressures on benefits & wellbeing decision-making and activity.
As a result, we'll be answering the question whether it's time to focus on the tactical elements and quick wins to stay ahead as the purse strings tighten or whether wholesale strategic change, like we've seen in this space for the last 3 years, will continue at pace.
The panel will discuss practical examples of benefits and wellbeing design, across aspects of funding, choice, personalisation, engagement and ESG, and whether reward professionals should focus on the big or the small to have impact in 2023 and beyond.
Key issues to be explored:
• Impact of ongoing crises on benefits design: how resilient are they for the future?
• What are the key economic and labour drivers affecting benefits design in 2023 and beyond
• Which tactical benefits delivery actions are most likely to engage the workforce
• How employers can offer greater fairness without busting benefits budgets
• In which ways can employers have quick win impact for spend when offering choice and personalisation
Thanks to strategic partner Howden for supporting this REBA webinar.
Panel chair: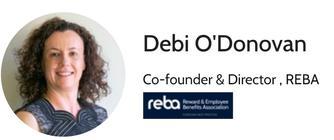 The panel consists of: