View the webinar recording.
View more webinar recordings in our resource library.
The employee experience is about to shift due to economic pressures and recessions across Europe. Yet demand for skills remains high, as businesses continue to transform products and services. This means creating a positive working culture that attracts and retains talent is vital to financial success.
The panel will share how they plan to support a workforce strained by recessionary events and widespread inflation, and enter 2023 with an improved outlook, enabling a focus on core business values, long-tail growth and a renewed urgency to inspire engagement.
In this webinar you will hear from forward-thinking employers about the reward and benefits decisions and actions they are taking, and how they are using ROI-focused recognition strategies to build loyalty, support DEI, create good cultures and leverage wellbeing as a financial gamechanger.
Key themes to be explored
• How the economic recession/downturn will change reward, recognition and benefits in 2023
• Ways to evolve workplace processes to build loyalty, support DEI and create a positive working culture
• The rise of the importance of tangible ROI – and how to prove it through recognition
• Making employee wellbeing a differentiator for recruiting and retention as well as a financial gamechanger

Thanks to strategic partner Workhuman for supporting this REBA webinar.
Panel chair: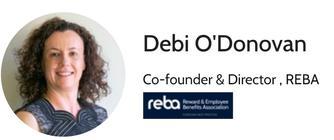 The panel consists of: