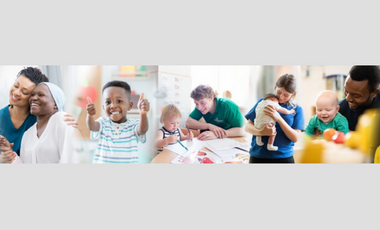 Bright Horizons Work+Family Solutions
The rise of the family: how leading employers are meeting the new and surprising expectations of parents and carers.
Hear new research and innovative employer examples on meeting the needs of family life to retain key talent. From new parents to eldercare, employers are increasingly focussing on supporting the lives of employees outside work: family life stages are key to this.
Get the latest on:
How to create a culture that empowers all stages of family life, promotes inclusivity and retains key, loyal talent.
What new parents actually want and what keeps parents of older children engaged
The hidden link between Quiet Quitting and the great Un-Retirement: how to be the employer of choice for families at all phases
Come and talk to us about
Bright Horizons is dedicated to providing the best in class work+family solutions. Alongside the provision of great childcare solutions, today we are dedicated to supporting employers enable the holistic combination of work and family; ensuring their working parents and carers are amongst the most engaged and productive members of any team. The business now globally encompasses approximately 1,100 nurseries, over 10,000 emergency childcare and back-up care providers and works with more than 1,150 of the world's leading employers providing a full range of work and family support. Our bespoke services address the practical, wellbeing and cultural needs of organisations and individuals.
More from us: enjoy our content
Focus on Cost of Living: Cost-Savings Through Strategic Support for Parents & Carers
Work + Family Solutions - All Solutions Guide 2022