Training guide: How to maximise take-up of health and wellbeing benefits through communication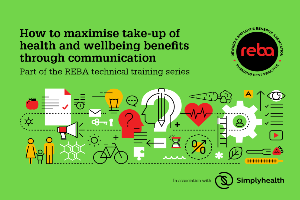 Most employers would agree that offering health and wellbeing benefits to staff has advantages for the business too. But offering these initiatives is pointless unless they are valued and used by employees – and this can only happen if people know they are available in the first place.
In this technical guide, we explain how to get your health and wellbeing benefits communications strategy right to ensure your employees benefit from better physical and mental health, and you can reap the rewards of improved morale, performance, and ultimately a healthier profit margin.
Topics include:
Average take-up levels of health and wellbeing benefits
Making the business case for a communications budget
Communication methods
Pitfalls and legalities
Measuring success.
There is even a quiz at the end with which to test your knowledge!
REBA Technical Training Guides - Providing practical advice for your day-to-day job.
In partnership with Simplyhealth
Our health plans make it easy for people to maintain their health&wellbeing.