View the webinar recording.
View more webinar recordings in our resource library.
As we enter 2023 the reward landscape is presenting new challenges to employers, from reviewing pay increases in a high inflation economy and maintaining employee engagement through to managing the cost of living and supporting the complete wellbeing of their workforce.
This webinar will explore predicted pay trends and which areas of personal spending are most impacting employees. It will explore which employee benefits are most effective at providing physical, emotional, and financial wellbeing in the current climate, as well as how employers are reshaping and communicating their pay and benefits to build a resilient workforce.
The panel will discuss practical recommendations; how to avoid discontent in pay discussions; and which employee benefits to offer and communicate to engage, inspire and energise different employee groups.
Key themes to be explored:
• Expected pay review trends in 2023
• Ways to manage the gap when pay increases are below current inflation levels
• Understanding how cost of living and personal spending is shifting to identify which employee benefits will best support your workforce
• Vital guidance on how to communicate pay and benefits to avoid discontent and to resonate with different employee groups
• How to build loyalty, engagement, and complete employee wellbeing to maintain organisational resilience and productivity
Thanks to strategic partner Personal Group/Innecto for supporting this REBA webinar.
Panel chair: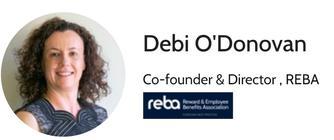 The panel consists of: