Employers are fundamentally rethinking employee benefits, as a result of changing business and HR objectives linked to DEI, working practices, ESG and wellbeing.
To prevent benefits designs lagging behind business priorities, HR, reward and benefits practitioners need to understand these big trends and what they will mean for their own organisation.
In this webinar, the panellists will share how their business and people priorities are changing, why this is driving their own benefits reviews and what they expect will most influence benefits design going forward.
Key issues to be explored
What are the major forces that are changing business priorities and corporate culture?
What are the major forces changing people strategies?
How are strategies already changing, and what changes are still expected?
In which ways are benefits design currently lagging behind what today's organisations and workforces need?
How can employers understand the sweeping changes at their organisations and apply these to their own benefits design?
Where could employers be focussing their benefits reviews in order to evolve a strategic overarching principle rather than piecemeal, reactive adaptations?
What is going to have the biggest influence on benefits design over the next 10 years?
REBA webinars are complimentary for everyone working within rewards and benefits.

Thanks to strategic partner, Howden Employee Benefits & Wellbeing, for supporting this REBA webinar.
Panel chair: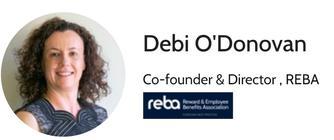 The panel consists of: