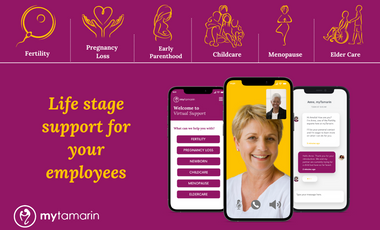 myTamarin
myTamarin are the leading provider of employee support during the critical life stages:
Family Forming & Fertility
Pregnancy Loss
New Parents and Early Parenthood
Childcare
Menopause
Elder Care
80% of all employees are in one of the critical life stages, right now. 1 in 3 of them quit, reduce working hours, or lose their productivity.
With a 50%+ employee uptake, myTamarin experts increase retention, wellbeing and productivity significantly, while reducing attrition and employee burnout.
myTamarin experts include fertility nurses, menopause nurses, midwives, maternity nurses, sleep consultants, lactation consultants, childcare specialists, menopause nurses, and many more - all at the tips of your employees' fingers - via 1on1 video calls or chats.
Come and talk to us about
myTamarin's holistic and impactful approach to attracting, retaining and supporting a diverse workforce. Delegates can expect to hear about each life stage, which are so unique and personal to an individual, and how offering personalised support and access to real human experts can change their work and life for the better.